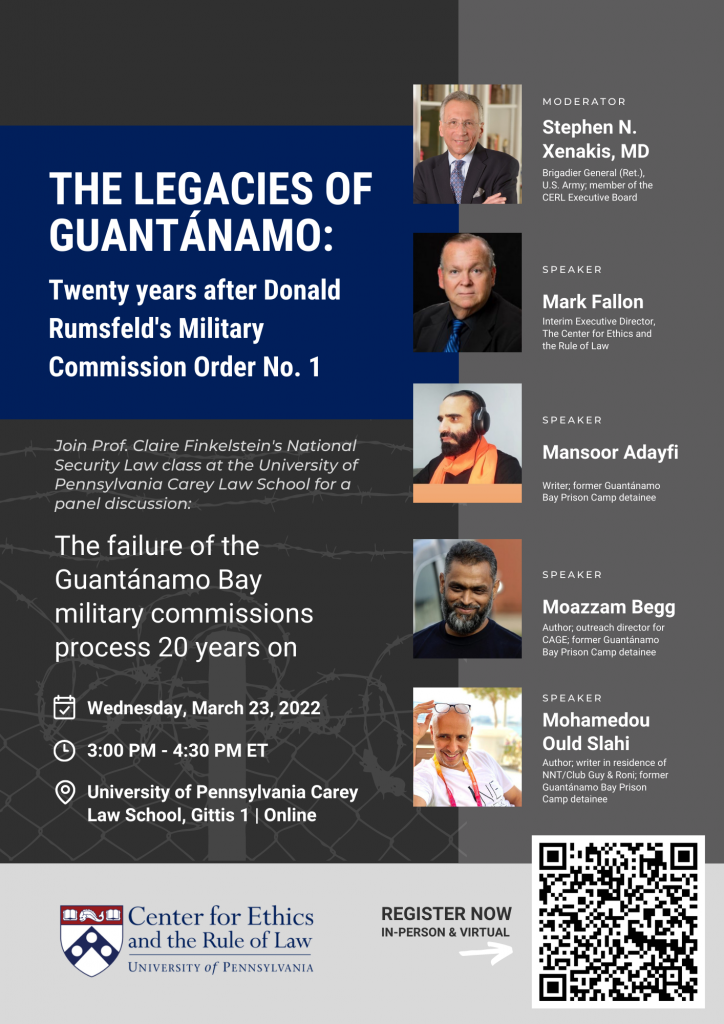 The legacies of Guantánamo: Twenty years after Military Commission Order No. 1
Watch the playback:
A conversation on the Guantánamo Bay military commissions process 20 years on
On the occasion of the 20th anniversary of the issuance of Military Commission Order No. 1, which was promulgated by Donald Rumsfeld on March 21, 2002, the Center for Ethics and the Rule of Law will convene a panel on the failed military commissions process at Guantánamo Bay (GTMO).
The hybrid in-person/virtual panel on March 23, 2022, from 3-4:30pm Eastern Time will be moderated by Brig. Gen. (Ret.) Steve Xenakis, MD, who served as a psychiatric and medical expert in numerous cases involving detainees at GTMO. Panelists include Mark Fallon, Interim Executive Director of the Center for Ethics and the Rule of Law and former Deputy Commander of the Criminal Investigation Task Force (CITF) whose mandate was to probe the al-Qaeda terrorist network and bring suspected terrorists to trial, and three former GTMO detainees who each have detailed their experiences in searing memoirs—Mansoor Adayfi, Moazzam Begg, and Mohamedou Ould Slahi.
BOOKS FOR PURCHASE
Don't Forget Us Here: Lost and Found at Guantánamo by Mansoor Adayfi
This moving, eye-opening memoir of an innocent man detained at Guantánamo Bay for fifteen years tells a story of humanity in the unlikeliest of places and an unprecedented look at life at Guantánamo.
At the age of 18, Mansoor Adayfi left his home in Yemen for a cultural mission to Afghanistan. He never returned. Kidnapped by warlords and then sold to the US after 9/11, he was disappeared to Guantánamo Bay, where he spent the next 14 years as Detainee #441.
Don't Forget Us Here tells two coming-of-age stories in parallel: a makeshift island outpost becoming the world's most notorious prison and an innocent young man emerging from its darkness. Arriving as a stubborn teenager, Mansoor survived the camp's infamous interrogation program and became a feared and hardened resistance fighter leading prison riots and hunger strikes. With time though, he grew into the man nicknamed "Smiley Troublemaker": a student, writer, advocate, and historian. While at Guantánamo, he wrote a series of manuscripts he sent as letters to his attorneys, which he then transformed into this vital chronicle, in collaboration with award-winning writer Antonio Aiello. With unexpected warmth and empathy, Mansoor unwinds a narrative of fighting for hope and survival in unimaginable circumstances, illuminating the limitlessness of the human spirit. And through his own story, he also tells Guantánamo's story, offering an unprecedented window into one of the most secretive places on earth and the people—detainees and guards alike—who lived there with him.
Twenty years after 9/11, Guantánamo remains open, and at a moment of due reckoning, Mansoor Adayfi helps us understand what actually happened there—both the horror and the beauty—a stunning record of an experience we cannot afford to forget—provided by publisher
Enemy Combatant: My Imprisonment at Guantánamo, Bagram, and Kandahar by Moazzam Begg
The "shocking firsthand account" (Chicago Sun-Times) of one man's years inside the notorious American prison—and his Kafkaesque struggle to clear his name.
"The first authentic firsthand portrait of a detainee's life at Guantánamo . . . essential reading. [Moazzam Begg] describes his incarceration with restraint, precision, and sometimes withering humor." —Jonathan Raban, The New York Review of Books
When Enemy Combatant was first published in the United States in hardcover in 2006 it garnered sensational reviews, and its author was featured in the New York Times, the Los Angeles Times, on National Public Radio, and on ABC News. A second generation British Muslim, Begg had been held by the U.S. military for more than three years before being released without charge in January of 2005. His memoir is the first published account by a Guantánamo detainee of life inside the infamous prison.
Writing in the Washington Post Book World, Jane Mayer described Enemy Combatant as "fascinating . . . Begg provides some ideological counterweight to the one-sided spin coming from the U.S. government. He writes passionately and personally, stripping readers of the comforting lie that somehow the detainees aren't really like us, with emotional attachments, intellectual interests and fully developed humanity."—provided by publisher
The Mauritanian (originally published as Guantánamo Diary) by Mohamedou Ould Slahi
This "profound and disturbing" (New York Times Book Review) bestseller written by a Guantánamo prisoner is now a major feature film starring Tahar Rahim and Jodie Foster.
When The Mauritanian was first published as Guantánamo Diary in 2015—heavily redacted by the U.S. government—Mohamedou Ould Slahi was still imprisoned at the detainee camp in Guantánamo Bay, Cuba, despite a federal court ruling ordering his release, and it was unclear when or if he would ever see freedom. In October 2016 he was finally released and reunited with his family. During his fourteen-year imprisonment the United States never charged him with a crime.
Now he is able to tell his story in full, with previously censored material restored. This searing diary is not merely a vivid record of a miscarriage of justice, but a deeply personal memoir—terrifying, darkly humorous, and surprisingly gracious. The Mauritanian is a document of immense emotional power and historical importance.—provided by publisher
Unjustifiable Means: The Inside Story of How the CIA, Pentagon, and US Government Conspired to Torture by Mark Fallon
In his more than thirty years as an NCIS special agent and counterintelligence officer, Mark Fallon has investigated some of the most significant terrorist operations in US history, including the first bombing of the World Trade Center and the 2000 attack on the USS Cole. He knew well how to bring criminals to justice, all the while upholding the Constitution. But in the aftermath of September 11, 2001, it was clear that America was dealing with a new kind of enemy. Soon after the attacks, Fallon was named Deputy Commander of the newly formed Criminal Investigation Task Force (CITF), created to probe the al-Qaeda terrorist network and bring suspected terrorists to trial. Fallon was determined to do the job the right way, but with the opening of Guantanamo Bay and the arrival of its detainees, he witnessed a shadowy dark side of the intelligence community that emerged, peddling a snake-oil they called "enhanced interrogation techniques."
In Unjustifiable Means, Fallon reveals this dark side of the United States government, which threw our own laws and international covenants aside to become a nation that tortured—sanctioned by the highest-ranking members of the Bush Administration, the Army, and the CIA, many of whom still hold government positions, although none have been held accountable. Until now.—provided by publisher
COVID-19 Protocol: All in-person attendees will be REQUIRED to wear a mask and must show either their Green PennOpen Pass (Penn faculty, students, postdocs, staff, and badged contractors) or Green PennOpen Campus (event participants, day visitors, vendors, and non-badged contractors). In alignment with policies of the University and the Philadelphia Department of Public Health, all event participants, spectators, and visitors must also attest to being fully vaccinated.
Share The legacies of Guantánamo: Twenty years after Military Commission Order No. 1 on:
The legacies of Guantánamo: Twenty years after Military Commission Order No. 1