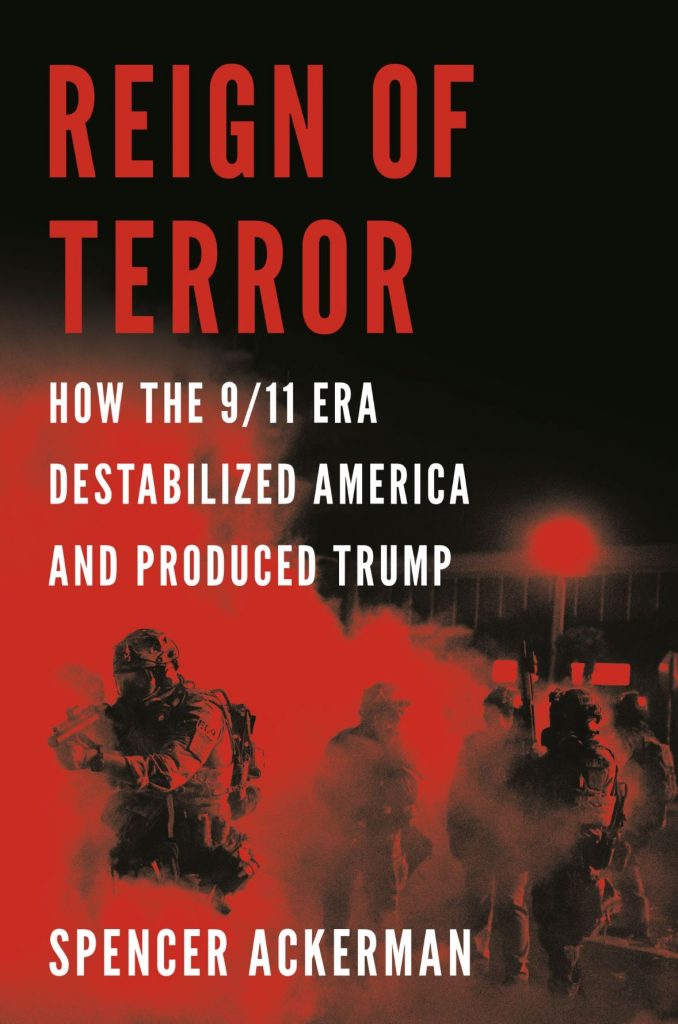 CERL Book Talk – Reign of Terror: How the 9/11 Era Destabilized America and Produced Trump
The Center for Ethics and the Rule of Law (CERL) at the Annenberg Public Policy Center of the University of Pennsylvania, together with the Middle East Center, is delighted to host Pulitzer Prize-winning author Spencer Ackerman for a conversation on his book Reign of Terror. Claire Finkelstein, Algernon Biddle Professor of Law and Professor of Philosophy at the University of Pennsylvania Carey Law School and CERL faculty director, will moderate the talk.
The event is set to take place on November 11, 2021, from 4:00 p.m. to 5:30 p.m. at Perry World House (3803 Locust Walk, Philadelphia, PA 19104) and on Zoom. In-person attendees will have the opportunity to get their books signed after the event.
About the book: For an entire generation, at home and abroad, the United States has waged an endless conflict known as the War on Terror. In addition to multiple ground wars, it has pioneered drone strikes and industrial-scale digital surveillance, as well as detaining people indefinitely and torturing them. These conflicts have yielded neither peace nor victory, but they have transformed America. What began as the persecution of Muslims and immigrants has become a normalized, paranoid feature of American politics and security, expanding the possibilities for applying similar or worse measures against other targets at home. A politically divided country turned the War on Terror into a cultural and then tribal struggle, first on the ideological fringes and ultimately expanding to conquer the Republican Party, often with the timid acquiescence of the Democratic Party. Today's nativist resurgence walked through a door opened by the 9/11 era.
Reign of Terror will show how these policies created a foundation for American authoritarianism and, though it is not a book about Donald Trump, it will provide a critical explanation of his rise to power and the sources of his political strength. It will show that Barack Obama squandered an opportunity to dismantle the War on Terror after killing Osama bin Laden. That mistake turns out to have been portentous. By the end of his tenure, the war metastasized into a broader and bitter culture struggle in search of a demagogue like Trump to lead it.
A union of journalism and intellectual history, Reign of Terror will be a pathbreaking and definitive book with the power to transform how America understands its national security policies and their catastrophic impact on its civic life. — Provided by publisher.
About the author: For nearly the entire War on Terror, Spencer Ackerman has been a national-security correspondent for outlets like The New Republic, WIRED, The Guardian and currently The Daily Beast. He has reported from the frontlines of Afghanistan, Iraq, and Guantanamo Bay. He shared in the 2014 Pulitzer Prize for Public Service Journalism for Edward Snowden's NSA leaks to The Guardian, a series of stories that also yielded him other awards, including the Scripps Howard Foundation's 2014 Roy W. Howard Award for Public Service Reporting and the 2013 IRE medal for investigative reporting. Ackerman's WIRED series on Islamophobic counterterrorism training at the FBI won the 2012 online National Magazine Award for reporting. He frequently appears on MSNBC, CNN, and other news networks.
COVID-19 Protocol: All attendees will be REQUIRED to wear a mask and must show either their Green PennOpen Pass (Penn faculty, students, postdocs, staff, and badged contractors) or Green PennOpen Campus (event participants, day visitors, vendors, and non-badged contractors).
Share CERL Book Talk – Reign of Terror: How the 9/11 Era Destabilized America and Produced Trump on:
CERL Book Talk – Reign of Terror: How the 9/11 Era Destabilized America and Produced Trump