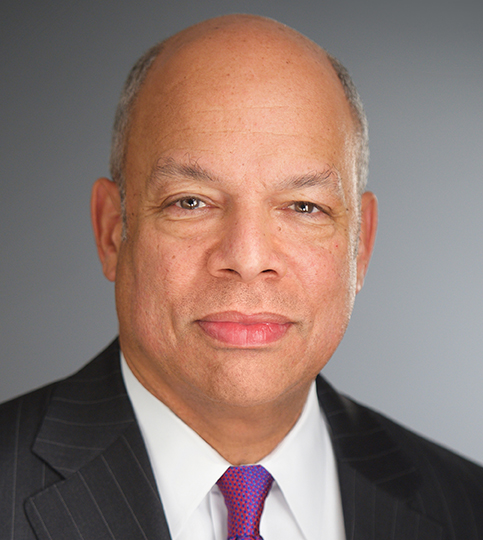 CANCELED: Reflections on National Security: Fireside Chat with Secretary Jeh Johnson
Join the Center for Ethics and the Rule of Law, Perry World House, and the Christopher H. Browne Center for International Politics for a conversation with Secretary Jeh Johnson.
FREE AND OPEN TO THE PUBLIC.
Distinguished Guest: Secretary Jeh Johnson
Jeh Johnson is a partner in the law firm of Paul, Weiss, Rifkind, Wharton & Garrison, LLP, who in public life was Secretary of Homeland Security (2013-2017), General Counsel of the Department of Defense (2009-2012), General Counsel of the Department of the Air Force (1998-2001), and an Assistant United States Attorney in the Southern District of New York (1989-1991).
Johnson is a 2021 recipient of the American Lawyer's Lifetime Achievement Award, as "an American statesman [who] has devoted his career to the public interest," and a 2018 recipient of the Ronald Reagan Peace Through Strength Award, presented at the Reagan Presidential Library, for "contribut[ing] greatly to the defense of our nation," and "guiding us through turbulent times with courage and wisdom."
Johnson is on the board of directors of Lockheed Martin, U.S. Steel, the Council on Foreign Relations, the 9/11 Memorial and Museum in New York City, the Center for a New American Security, and is a trustee of Columbia University. Johnson is a regular commentator on national and homeland security matters on NBC's Meet The Press, CBS's Face The Nation, MSNBC, CNN, FOX, Bloomberg TV and other news networks.
Johnson is a graduate of Morehouse College (1979) and Columbia Law School (1982) and the recipient of 11 honorary degrees.
Moderator: Professor Claire Finkelstein
Algernon Biddle Professor of Law and Professor of Philosophy
Claire Finkelstein's current research addresses national security law and policy and democratic governance with a focus on related ethical and rule of law issues.
Professor Finkelstein is the founder and academic director of the Center for Ethics and the Rule of Law (CERL), a non-partisan interdisciplinary institute affiliated with the University of Pennsylvania's Annenberg Public Policy Center (APPC). She is a distinguished research fellow at APPC and a senior fellow at the Foreign Policy Research Institute (FPRI).
An expert in the law of armed conflict, military ethics, and national security law, she is a co-editor (with Jens David Ohlin) of The Oxford Series in Ethics, National Security, and the Rule of Law, and an editor of five of its volumes: Targeted Killings: Law & Morality in an Asymmetrical World (2012); Cyber War: Law and Ethics for Virtual Conflicts(2015); Weighing Lives in War (2017); Sovereignty and the New Executive Authority (2018); and Preserving Cultural Heritage in Times of War (forthcoming). Most recently, she served as a contributing reporter to If It's Broke, Fix It: Restoring Federal Government Ethics and Rule of Law published by the Brookings Institution in 2021.
Share CANCELED: Reflections on National Security: Fireside Chat with Secretary Jeh Johnson on:
CANCELED: Reflections on National Security: Fireside Chat with Secretary Jeh Johnson