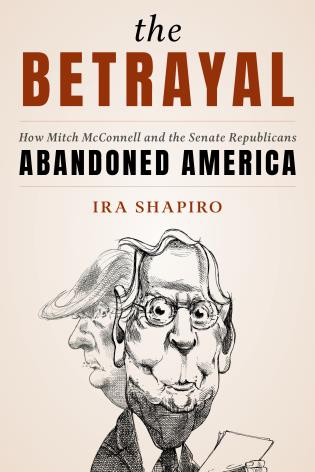 The Betrayal: How Mitch McConnell and the Senate Republicans Abandoned America
About the panel
Ambassador Ira Shapiro, Guest Author
Ira Shapiro's forty-five-year Washington career has focused on American politics and international trade. Shapiro served twelve years in senior staff positions in the U.S. Senate, working for a series of distinguished senators: Jacob Javits, Gaylord Nelson, Abraham Ribicoff, Thomas Eagleton, Robert Byrd, and Jay Rockefeller. He served in the Office of the U.S. Trade Representative during the Clinton administration, first as general counsel and then chief negotiator with Japan and Canada, with the rank of ambassador. He is the author of two previous critically acclaimed books about the Senate: The Last Great Senate: Courage and Statesmanship in Times of Crisis and Broken: Can the Senate Save Itself and the Country? Shapiro resides in Potomac, Maryland.
Dr. John Lapinski, University of Pennsylvania
John Lapinski, Ph.D., is the Robert A. Fox Professor of Political Science, Faculty Director of the Robert A. Fox Leadership Program, the Director of the Penn Program on Opinion Research and Election Studies and leading the data science undergraduate teaching effort in the College. He also serves as the Faculty Director for the Executive Masters of Public Administration program within the Fels Institute of Government and as the Director of the Elections at NBC News. In his role for NBC News, Lapinski is responsible for projecting races for the network and produces election-related stories through exit polls for NBC News, MSNBC, CNBC, Telemundo, and all of NBC's digital properties. Dr. Lapinski earned his Ph.D. at Columbia University in 2000, and previously was an associate professor in the Department of Political Science at Yale University. He came to Penn in 2006. His primary area of research is concerned with understanding national elections as well as lawmaking in Congress through empirical analysis. He is the author of The Substance of Representation (Princeton University Press, 2013) and co-author (with David A. Bateman and Ira Katznelson) of Southern Nation (Princeton University Press, 2018) which won several awards, including D.B. Hardeman Prize from the Lyndon Johnson Foundation. Lapinski regularly publishes in top journals in his field.
Elizabeth Vale, IntraFi Network
Elizabeth Vale is a Senior Managing Director at financial technology company IntraFi Network. Previously, she was Senior Advisor and Business Liaison for Elizabeth Warren's Senate campaign. Before that she was Director of External Affairs at the Consumer Financial Protection Bureau (CFPB), with responsibility for the Bureau's engagement with Capitol Hill, the media, consumer groups, local and state governments, and the business community. She was also a Senior Policy Advisor to Elizabeth Warren on the CFPB's Implementation Team. Previously she was the White House Business Liaison and Executive Director of the White House Business Council in President Obama's White House. She coordinated a consistent White House message to and from the business community across 12 federal agencies. Before that Elizabeth was a Managing Director at Morgan Stanley, and a Vice President at the Philadelphia National Bank. Previously she was a Legislative Assistant in economic policy for Senator John Heinz for his work on the Senate Banking and Finance Committees. Elizabeth has an A.B. cum laude in government from Harvard University and studied at the London School of Economics. She is a Chartered Financial Analyst (CFA).
Share The Betrayal: How Mitch McConnell and the Senate Republicans Abandoned America on:
The Betrayal: How Mitch McConnell and the Senate Republicans Abandoned America