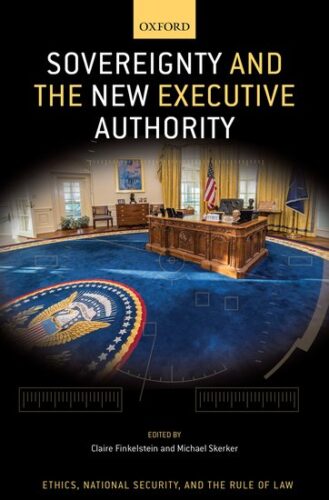 Presidential Power and the Current Crisis of Executive Authority
A CERL Book Talk based on "Sovereignty and the New Executive
Authority " (Oxford University Press, 2018) and co-edited by Professor Claire Finkelstein
Since 9/11, the growth of the national security state has brought with it an increasing struggle to maintain the legal and ethical boundaries surrounding executive authority, boundaries that help to define and protect
democratic governance. In today's political landscape, debates about the scope of presidential power have intensified, and they are likely to accelerate even more this year, as a divided Congress does battle over fundamental aspects of
civilian leadership while the president continues to press an unprecedented vision of the powers of his office. Questions like whether a sitting president may be indicted, whether the president's pardon power under the U.S. Constitution allows
the president to pardon himself, and whether the president may use emergency powers to fund and build a border wall, will be contentiously debated and may even find their way to the U.S. Supreme Court this year.
Panelists include:
Jonathan Turley , J.B. and Maurice C. Shapiro Professor of Public Interest Law, George Washington University Law School
Sanford V. Levinson , W. St. John Garwood and W. St. John Garwood, Jr. Centennial Chair, Professor of Government, University of Texas Law School
Sharon Lloyd, Professor of Philosophy and Law, and Political Science, University of Southern California at Dornsife
Michael Skerker, Associate Professor of Leadership, Ethics and Law, U.S. Naval Academy
Moderated by Claire Finkelstein , Algernon Biddle Professor of Law and Professor of Philosophy and CERL Faculty Director
This conference was co-sponsored by the Journal of International Law at the University of Pennsylvania Law School.
Share Presidential Power and the Current Crisis of Executive Authority on:
Presidential Power and the Current Crisis of Executive Authority