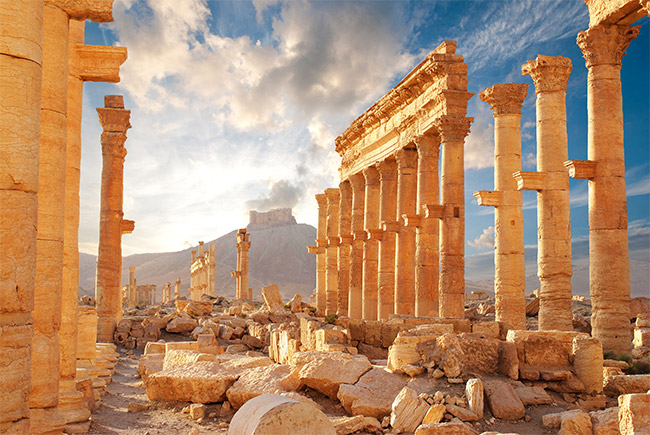 Preserving Art and Culture in Times of Armed Conflict
In March 2001, six months before the attacks of 9/11, the Taliban provoked international outrage when it destroyed two Ancient statues of the Buddha carved into a hillside in the Bamiyan valley in Afghanistan. Mullah Mohammed
Omar, the Taliban's leader at time, considered the statues idolatrous, and the effort to destroy them was part of a broader effort to purge the nation of pre-Islamic cultural sites and artifacts. This episode provides a vivid illustration of the
degree to which cultural property has become a target in modern warfare. Achieving a better understanding of the damage inflicted by such attacks and strengthening efforts to prevent them will be the aim of our present conference.
Beyond demoralizing the enemy in war, the obliteration and looting of sacred buildings, works of art, and religious articles has the additional purpose of effacing a people's connection to a particular locale, possibly paving the way for the
permanent displacement of that population. Thus, the destruction of cultural property is more than a material and aesthetic loss, but a component of ethnic cleansing and genocide. Seeing the problem in this light adds greater urgency to the
effort to stop such tragic acts.
This two and a half day conference will attempt to solidify the moral and legal basis for preserving art and culture against destruction, and the extent of the duty to do so. Should we risk lives to protect art and culture? Or should we intervene
in the destruction of culture only when it is incident to our other military aims? The conference will also examine how art is used to fund terrorism and what methods and means can be introduced to eliminate the black market in looted art. What
responsibility does an occupying force have to prevent its own forces from taking "souvenirs," and what responsibility does it have to protect those same artifacts from looting or destruction by the occupied nation's own citizens or from neglect
by bureaucratic incompetency or indifference? Finally, the conference will discuss efforts to bring perpetrators to justice and create an international legal framework for preventing such incidents in the future.
PUBLIC KEYNOTE
PANEL TUESDAY APRIL 4 AT 5PM
The conference starts with a public keynote panel titled New Frontiers in the Protection of Cultural Property on Tuesday, April 4 at 5pm. Registration is strongly recommended. Register here .
Dr. Richard Leventhal, Director of the Penn Museum's Penn Center for Cultural Heritage, will moderate a wide-ranging discussion with panelists: Irina Bokova, Director-General, UNESCO; Karima Bennoune, Professor of International Law,
University of California-Davis School of Law and United Nations Special Rapporteur in the field of cultural rights; Derek Gillman, Distinguished Teaching Professor, Westphal College of Media Arts & Design, Drexel University, and Former
Executive Director and President, Barnes Foundation; Hon. Richard Goldstone, former judge, Appellate Division, Supreme Court of South Africa; and Shamila Batohi, Senior Legal Advisor to the Prosecutor at the International Criminal
Court.
A cocktail reception and opportunity to preview the new exhibition Cultures in the Crossfire: Stories from Syria and Iraq follows the panel discussion (limited timed tickets available with advance reservations). Presented by the Center
for Ethics and the Rule of Law at the University of Pennsylvania Law School and the Museum's Penn Cultural Heritage Center.
Share Preserving Art and Culture in Times of Armed Conflict on:
Preserving Art and Culture in Times of Armed Conflict