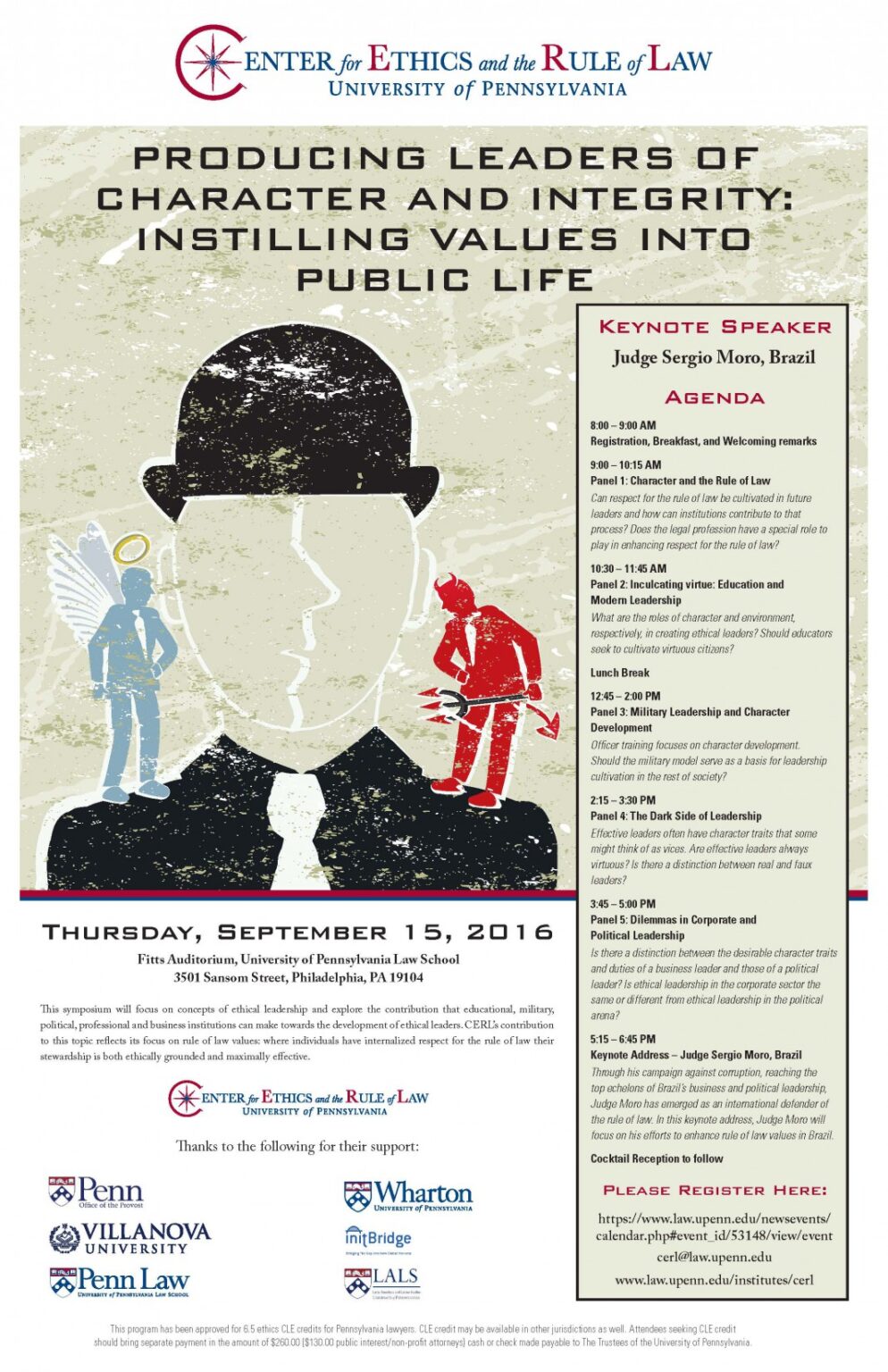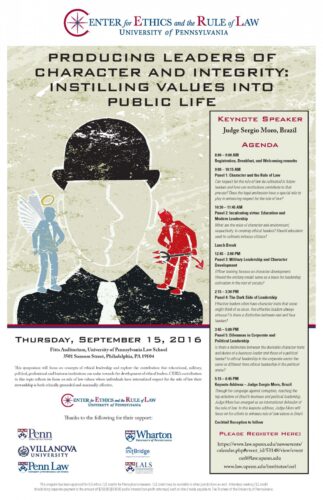 CERL Presents: Producing Leaders of Character and Integrity: Instilling Values into Public Life
Time: 8:00am – 8:00pm
Location: Golkin 100, Michael A. Fitts Auditorium
This symposium will focus on concepts of ethical leadership and explore the contribution that educational, military, political, professional and business institutions can make towards the development of ethical leaders. CERL's contribution to
this topic reflects its focus on rule of law values: where individuals have internalized respect for the rule of law their stewardship is both ethically grounded and maximally effective.
This program has been approved for 6.5 ethics CLE credits for Pennsylvania lawyers. CLE credit may be available in other jurisdictions as well. Attendees seeking CLE credit should bring separate payment in the amount of $260.00 ($130.00 public
interest/non-profit attorneys) cash or check made payable toThe Trustees of the University of Pennsylvania.
CERL 2016 Summer Film Series
Join the Center for Ethics and the Rule of Law (CERL) this summer as we explore ethical and legal issues concerning national security, armed conflict, and the lives of veterans through the lens of contemporary cinema. CERL will screen
recent films exploring the challenging personal and political questions that arise in times of war. Topics include the controversy over the torture of U.S. detainees in Iraq (Ghosts of Abu Ghraib), the dynamics of leadership during wartime
(Lincoln), and the impact of combat and post-traumatic stress on returning veterans and their families (The Messenger), among others. A brief discussion period with the audience will follow each screening. All screenings are free and
open to the public.
The inaugural film screening of Ghosts of Abu Ghraib will be held on Thursday, June 9th, at 3:00pm, at the University of Pennsylvania, Gittis Hall 002 (in the basement).
Subsequent screenings will be held on Tuesdays at 3:00pm EST in the Fitts Auditorium, University of Pennsylvania Law School.
Please RSVP by following the links below.
| | |
| --- | --- |
| | Gittis Hall, 002, University of Pennsylvania Law School |
| Thursday, June 9th, 3:00pm: | Ghosts of Abu Ghraib (2007) |
| | Fitts Auditorium, University of Pennsylvania Law School |
| Tuesday, June 14th, 3:00pm | The Counterfeiters (2007) |
| Tuesday, June 21st, 3:00pm | Rules of Engagement (2000) |
| Tuesday, June 28th, 2:30pm | Lincoln (2012) |
| Tuesday, July 5th, 3:00pm | The Messenger (2009) |
| Tuesday, July 12th, 3:00pm | Woman in Gold (2015) |
| Tuesday, July 19th, 3:00pm | Eye in the Sky (2015) |