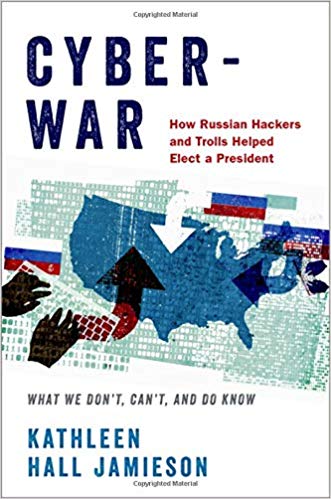 CERL Book Talk – Professor Kathleen Hall Jamieson: Cyberwar: How Russian Hackers and Trolls Helped Elect a President, What We Don't, Can't and Do Know
CERL Book Talk – Professor Kathleen Hall Jamieson: Cyberwar: How Russian Hackers and Trolls Helped Elect a President, What We Don't, Can't and Do Know

The question of how Donald Trump won the 2016 election looms over his presidency. Although not certain, it is probable that the Russians helped elect the 45th president of the United States.
Professor Kathleen Hall Jamieson details Russian troll and hacker efforts and how the press, social media, candidates, party leaders, and a polarized public abetted them.
How extensive was the troll messaging?
What characteristics of social media did the Russians exploit?
Why did the mainstream press rush the hacked content into the citizenry's newsfeeds?
Were Clinton's allegations that debate moderators distorted what she said in leaked speeches?
Did the Russian influence go beyond social media to alter the behavior of FBI director James Comey?
Cyberwar closes with a warning: the country is ill-prepared to prevent a sequel. During her conversation with moderator Professor Claire Finkelstein, Professor Jamieson will integrate the many new developments that have come to light since the
book's original publication.
Share CERL Book Talk – Professor Kathleen Hall Jamieson: Cyberwar: How Russian Hackers and Trolls Helped Elect a President, What We Don't, Can't and Do Know on:
CERL Book Talk – Professor Kathleen Hall Jamieson: Cyberwar: How Russian Hackers and Trolls Helped Elect a President, What We Don't, Can't and Do Know