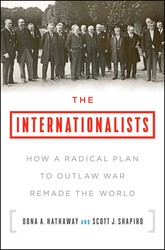 CERL Book Talk — Oona Hathaway and Scott Shapiro
4:00 pm-5:30 pm


The Internationalists: How a Radical Plan to Outlaw War Remade the World


The book talk will take place at Perry World House (3803 Locust Walk) and is open to the public and free of charge.
The Internationalists tells the story of the Kellogg-Briand Pact of 1928 (the Peace Pact) by placing it in the long history of international law from the seventeenth century through the present, tracing this rich history
through a fascinating and diverse array of lawyers, politicians and intellectuals—Hugo Grotius, Nishi Amane, Salmon Levinson, James Shotwell, Sumner Welles, Carl Schmitt, Hersch Lauterpacht, and Sayyid Qutb. It tells of a centuries-long struggle
of ideas over the role of war in a just world order. It details the brutal world of conflict the Peace Pact helped extinguish, and the subsequent era where tariffs and sanctions take the place of tanks and gunships.
The Internationalists examines with renewed appreciation an international system that has outlawed wars of aggression and brought unprecedented stability to the world map. Accessible and gripping, this book will change the way we
view the history of the twentieth century—and how we must work together to protect the global order the internationalists fought to make possible.
Share CERL Book Talk — Oona Hathaway and Scott Shapiro on:
CERL Book Talk — Oona Hathaway and Scott Shapiro