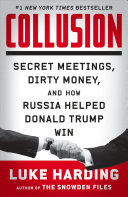 CERL Book Talk: Luke Harding discusses his NY Times #1 Bestseller "Collusion: Secret Meetings, Dirty Money, and How Russia Helped Donald Trump Win
In light of the continually unfolding drama surrounding investigations into the Trump election campaign, Luke Harding's book is understandably a bestseller. Though it does not claim to provide the "smoking gun" proof that would bring the
investigation to a dramatic conclusion, it does provide evidence that, when stacked up and read altogether in one place, is overwhelmingly compelling.
Harding, who served as The Guardian's Moscow bureau chief for four years before being thrown out of the country for his critical reporting on Vladimir Putin's government, presents a powerful case for Russian interference, and Trump
campaign collusion. Harding's previous book A Very Expensive Poison, about the assassination of
Alexander Litvinenko and Putin's war with the west, caused much controversy for the author while in Russia, and he later met many of the characters who now feature in the current investigations.
Join us to learn more about Harding's close insights, and to hear his take on current events as they unfold. The talk will be moderated by NBC reporter Lauren Mayk.
Share CERL Book Talk: Luke Harding discusses his NY Times #1 Bestseller "Collusion: Secret Meetings, Dirty Money, and How Russia Helped Donald Trump Win on:
CERL Book Talk: Luke Harding discusses his NY Times #1 Bestseller "Collusion: Secret Meetings, Dirty Money, and How Russia Helped Donald Trump Win