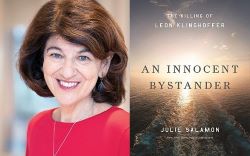 CERL Book Talk — An Innocent Bystander: The Killing of Leon Klinghoffer by Julie Salamon
5:00 PM to 6:30 PM
3501 Sansom Street, Philadelphia
"Israel is much more complicated than Bibi Netanyahu, and Palestine is much more complicated than Hamas. If the book serves any useful purpose, it's to say that any story
we know may not be the true story." – Julie Salamon, June 24, 2019, Forward interview

In 1985, four members of the Palestinian Liberation Front hijacked the Achille Lauro cruise ship and demanded the release of Palestinians held in Israeli jails. Unsuccessful, they killed passenger Leon Klinghoffer, an
American who was wheelchair bound and thrown overboard after being shot. This shocking act of international terrorism became a flashpoint in the Israeli-Palestinian conflict and a symbol of Americans' vulnerability and fear before the world
stage.
In her book, author Julie Salamon recounts the incident and its drama, the hijackers' capture and prosecution, and the aftermath for the families, including that of a Palestinian-American killed in the United States in retaliation. She explores the
political wrangling of the Reagan administration and other countries, and by drawing on many perspectives, dispels the mythology that she believes grew up around the hijacking.
CERL faculty director Professor Claire Finkelstein will moderate the program.
Julie Salamon is a former journalist and critic at The Wall Street Journal and The New York Times. She is the author of fiction and nonfiction books as well as articles for magazines that include The New
Yorker, Vanity Fair, Vogue, Bazaar, and The New Republic.
Sean P. Carter is a member of Cozen O'Connor and concentrates his practice in commercial and mass tort litigation, with a particular focus on cases involving claims under the Foreign Sovereign Immunities Act and
Anti-Terrorism Act.
Share CERL Book Talk — An Innocent Bystander: The Killing of Leon Klinghoffer by Julie Salamon on:
CERL Book Talk — An Innocent Bystander: The Killing of Leon Klinghoffer by Julie Salamon